What I wore, why I wore at cruise!! – PART 1
The Dressing is an ART FORM  !! This was a major lesson I learned in my Image Management, and that was surprising to me! Clothing and dressing take a major role in winning Image and that impacts a lot for whatever kind of success you want to achieve!
I was always very keen to experiment in my clothing since childhood, I guess it was my passion since then. I slowly learned that I am quite aesthetic in my dressing too and through this passion and love I tried to look different in a crowd but I still wanted to learn much more things as per my lifestyle, personal style and Body shape to dress! And thus, I learned complete Image mastery and fortunately that knowledge now helps me a lot to stand out in a crowd and to make my first impression very powerful!
JUDITH RASBAND our global Image coach says that,  "The way we DRESS affects the way we THINK, the way we ACT, & the way others REACT to us! "
And this is so true in my case, as I am working with this industry since 18 years, Travelling all around the world and meeting so many new people, and in such a lifestyle of creating my winning Image to take out maximum results my Clothing and Dressing played a Vital role .
Recently we went to Cruise to celebrate Oriflame 50th Anniversary and there were around 6000 people who are all Gold Directors and above, going to stay in this Beautiful Celebrity Cruise ships for 6 nights , here we had a sailing party, many different shows, 3 different Island visits and at the end a Farewell party so I got a beautiful opportunity to experiment with my wardrobe which in turn gave me a great confidence to be who I am!
Well, my body shape is Slightly Triangle to Ideal side with little variation of medium midriff and bust.
My height is short where my Upper torso is little shorter compare to lower torso so my strength is my long legs:)
According to this vertical and Horizontal shape, my goal was to create an IDEAL shape by adding some elements or by creating some illusion to hide my Triangle body and also to give length to my height.
So now check out my PART 1 post of my 4 outfits below where u can see, how I achieved this goal and boosted my confidence to create my winning image!!
Don't forget to see my 2nd part, which I will post very soon!
OUTFIT – 1
1. Dress – knee length Floral Print one piece from Vero Moda. Actually, I am not a print person, I did an experiment with these flowers for the 1st time!!
2. Where I Wore?– Top 15 leadership Council special Dinner at night in Rome in one of the best View hotel, Mirabelle Splendid Restaurant
3. How did it work?  – Off shoulder Balanced the shape and open legs created the illusion of height.
4. Focal/Focus Point – My big Statement earrings
OUTFIT – 2 


1. Formal dress – Blue Van Heusen one piece with Green Blazer from Myntra .
2. Where I wore? – In our 1stday leadership council meet of Top 15 India and Management team
3. How it worked? – The blue and green color scheme is the Contrast with my personal color and also with the Blazer I managed to hide my Midriff variation. Also, Open legs and the little heels add height to it!!
4. Focal/focus point -fuchsia  Pink lipstick of Oriflame
OUTFIT 3 – 


1. Dress  Casual Olive Green one piece from Vero Moda.  To make the outfit interesting I tried some colorful  Statement Accessory with the olive color
2. Where I wore? – When the Management team and Top 15 India leaders went for City Tour in Rome! So I choose to wear Flat Footwear too .
3. How did it work? – The Major thing is My Bell sleeves which helped me to balance my Horizontal Triangle shape. Knee length and open legs add height too
4. Focal/ Focus point – Off course this Statement Necklace along with its earrings which I bought from one renowned exhibition of Ahmedabad known as Weekend Window.
OUTFIT 4 – 
1. Dress – Pink Top from Vero Moda and Denim Shorts which is very old so didn't remember from where I Bought but I am glad that still, I can carry this so somehow I have maintained my shape 😉
2. Where I wore? – When we embarked at Turkey , Kusadasi port and went to Ephesus city tour
3. How did it work? – The pink Colour itself and its big Belly sleeve also which helped me to balance my Horizontal proportion! Here which I loved is the comfort in shorts and my pink shoes, which was needed on that day to walk a lot in Ephesus tour
4. Focal/ Focus point – Silver and Handwoven thread Necklace which again I bought from Weekend Window Exhibition in Ahmedabad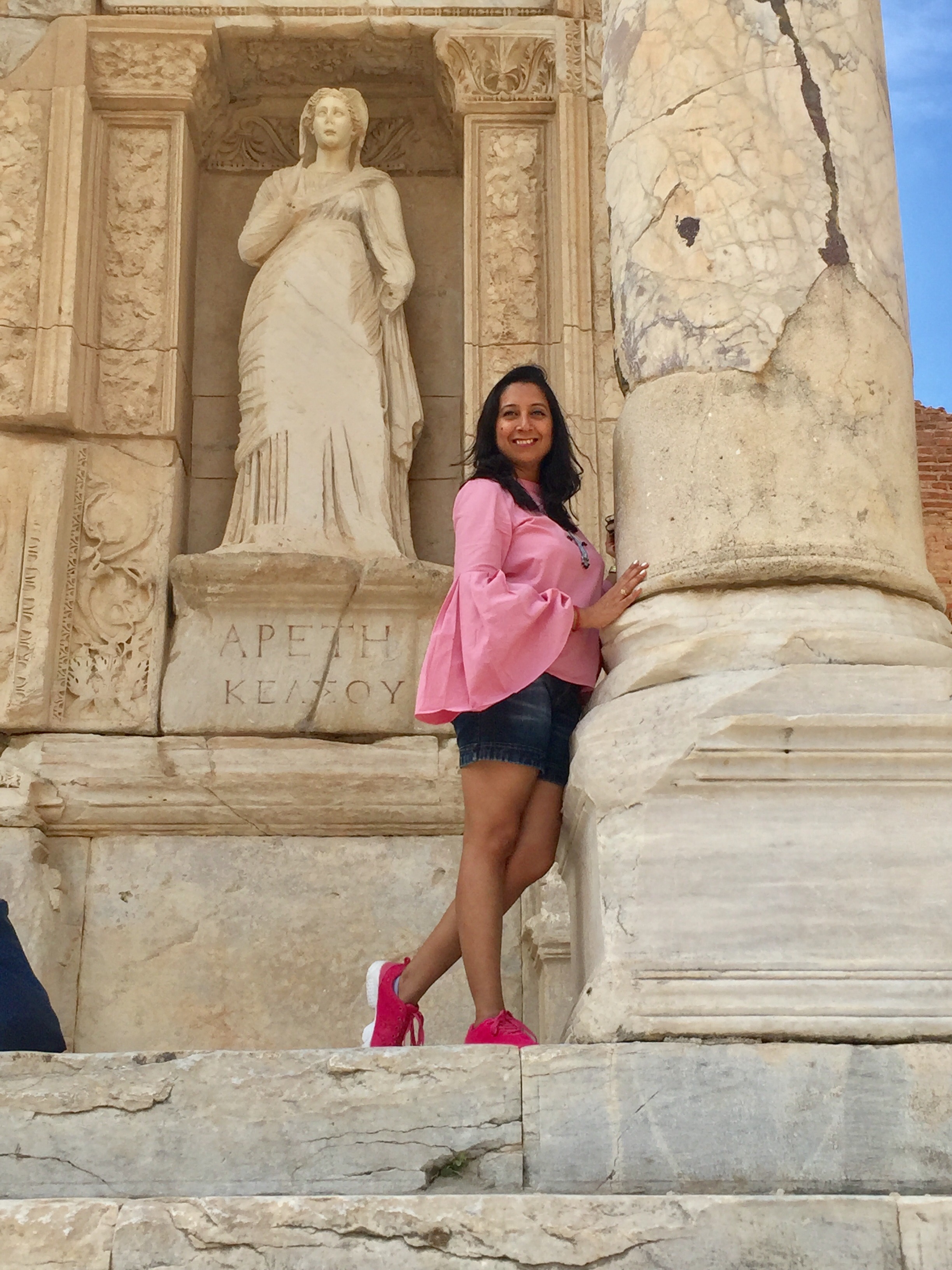 Normally people used to see me in a nice dress or dress in which I look beautiful, they sent many compliments!  And mostly in all my dress,  I received such compliments but they didn't know that how much elements I am adding to give my winning personality !!
You always get one chance to create your 1st Impression so invest the time and efforts to create it powerful!
So, friends do u need help to create your 1st impression?
Don't look beyond one Name and that is Image Consultant from Ahmedabad Purvi Shah ( I-Mage personage ) 
#staybeautiful #imageconsultant #ahmedabad
Purvishahconsultancy@gmail.com