What to take care in the Luggage while you are Traveling
As business person since 18 years, we are traveling a lot nationally and internationally, so with that we have a huge experience of what to carry and how to carry in the luggage and that's why we can really enjoy the trip without burden
Today in this post I will give you certain tips on what we need to take care in luggage and in all our things which we need to carry to get memorable wow experience of that trip ! This is on the bases of my personal experience as we had 24 foreign trips in these last 18 yrs and many national trips as well , surely this blog will help you to have hassled free travel !!
Focus on the Essentials


Make a checklist of all the important documents and papers you are expected to carry. Keep your passport, visa, plane ticket, address list, phone numbers, prescription papers (if any) and accommodation details ready. These are things you need easy access to during your departure and arrival, so pack them in your hand luggage.
If you are planing to carry a lot of money, then consider getting yourself a handy travel pouch for added safety , We sometimes now carry a Travel card which your bank can provide you and it's easy as per my experience! .
Keep it Light
Most of us end up over-packing clothes because we fear we'll run out of something; so by listing out what you really need, the sorting out part becomes easier. Segregate your clothes according to their different purposes — separate the inner wear from the outer, and casuals from the formals. Keep your socks, ties, shawls, towels, jackets, swimwear and winter wear separately. Take into account just how many you need under each segment and pack accordingly.
Next, start arranging all the clothes you've chosen in your bag and see how much space they occupy. If they are taking up too much space, then lose some of the optional garments. Ideally, you want to make sure that you are travelling as light as possible. As an image Consultant I can also say that we can create some Clusters among our clothes and that too support us for not taking too much and save the space ! Also if you have planning to shop there than that space we need to consider from here only !
Tips


* To save some luggage space, you could wear one of your heavier jackets on the day you are boarding your plane.
* Don't forget to pack adequate winter wear if the destination you are landing in is cold. You may even need it as soon as you land there.( Our experience of Leh and Ladakh where all the winter clothes we carried was less and so we need to purchase some from there )
* Compartmentalise the items based on the urgency of your needs; this would make it easier for you to unpack
* Consider packing a set of clothes in your hand luggage in case you have to stay at a hotel or some other form of temporary accommodation, once you land
* Buy a bag that is lightweight and durable so it doesn't eat into your overall baggage weight. Oftentimes, a suitcase is heavier than a trolley.
* Create Clusters from here only in your formals, casuals and accessories to avoid carry much items
* Leave out anything you feel is not a necessity. We can't stress this enough. You can always buy those goods in the country you are going if u needs
* Carry fragile and expensive items like your laptop and camera in your hand luggage, so they aren't damaged by any reckless handling of your flight baggage, by the airport staff.
Electronic Items
One important accessory to carry is a universal power adapter for your electronic devices to function without issues; so get yourself one from online stores like Flipkart.
Apart from your laptop and camera, you will have to find some space to pack in your chargers (both for the phone and camera)
Optional Items
There are some goods that fall between the must-carry and must-not list. Take a call on
A lot of toiletries and items like lotions, creams and make-up can be decided upon based on your urgency of needs. I can't compromise on my Skincare , Hair care and make up products as we have many things to do during one trip , we have business day to welcome party and always a grand Gala dinner at last day so I always carry and organise them in a small bottles and in different Kit bags so it never occupies much space ! You'll definitely need shoes and slippers, but you can limit the number of pairs you carry based on your requirements and space left in the baggage.
Leave behind anything you feel is in excess to your immediate needs. You can always purchase the same abroad.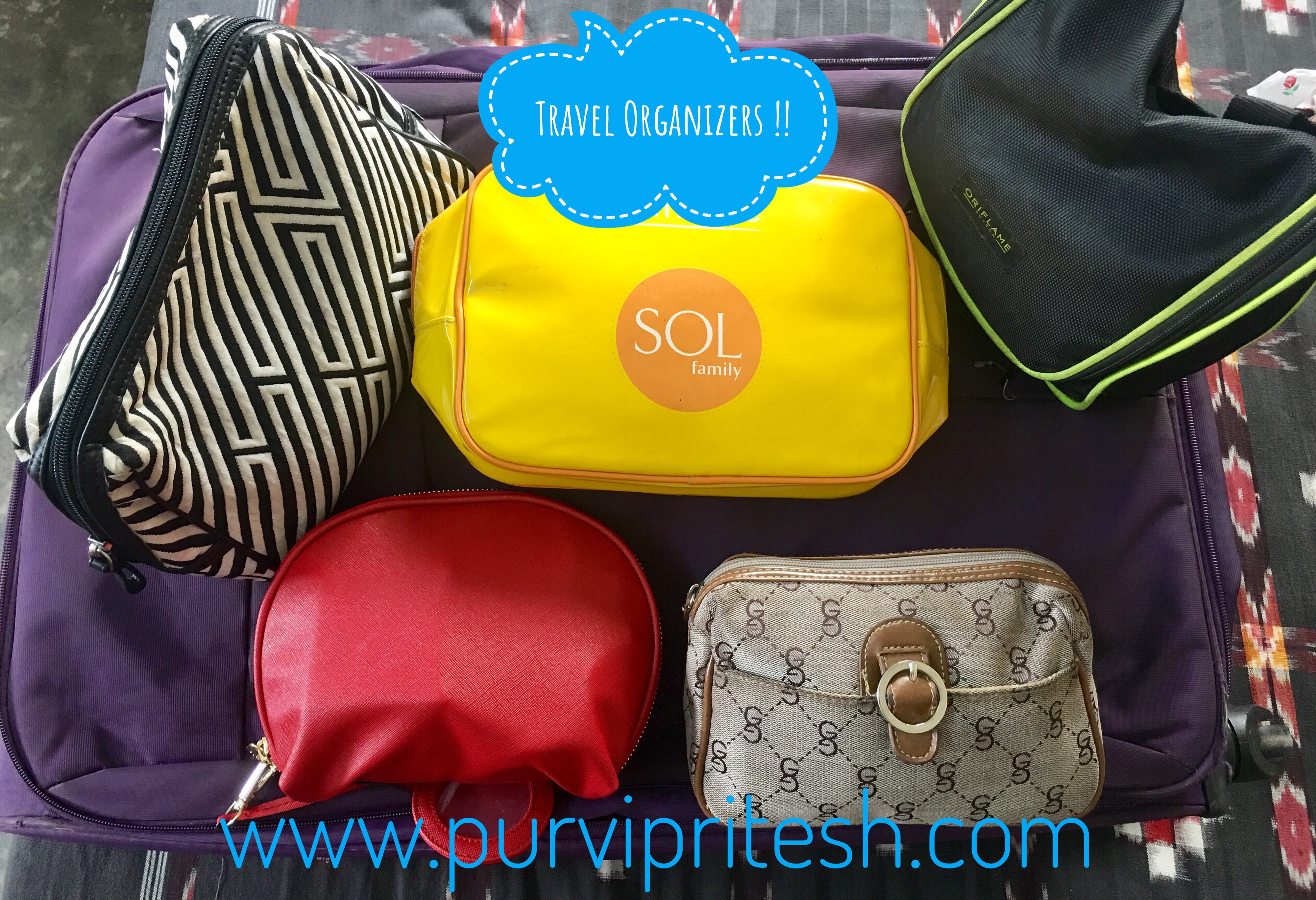 What to Avoid:


* Avoid packing real jewellery in your luggage; wear them on you if you feel the need to take some.
* Leave behind sharp objects like knives, scissors and blades. These items are banned on most flights.
* Don't pack any food or other perishable goods; it could get messy if they leak in your luggage.
* Don't carry deodorants, extra bars of soap, shampoos and other toiletries. You could purchase them all abroad.
Friends , you can have your ideas too to keep your travel easy , my motto is to share my suggestions as per my experience!!
#staysafe
#travelsafe #purvipritesh