This is surely the most awaited offer launched by Oriflame India today. Oriflame India declared a new recruitment offer starting from 24th May to 30th June 2013. Now one can join Oriflame in just 99 Rs. One has to place order of 1250 Rs and the Joining Fees will be just 99 Rs. This way one can save 200 Rs on Joining. Moreover Company also launched a New Welcome Program for additional benefits to award new Joining in this Recruitment Offer.
What Additional Benefits, New Joined Will Get?
First Month: When after joining one can place accumulated personal order of 100 Bonus Points during first 30 days of joining as an Oriflame consultant, she can get her choice of skincare product worth Rs 700 Rs in 100 Rs. This way, one can save 600 Rs.
Second Month: In Second month, she can get Essential Black Sunglasses studded with Swarovski diamonds worth of Rs 1790rs in 100 Rs. This way, she can save 1690rs Second month.
Third Month: In Third month with the Order of 100 Business Points, she will get essential Black Bag worth Rs 1990 for 100 Rs. This way one can save 1890rs.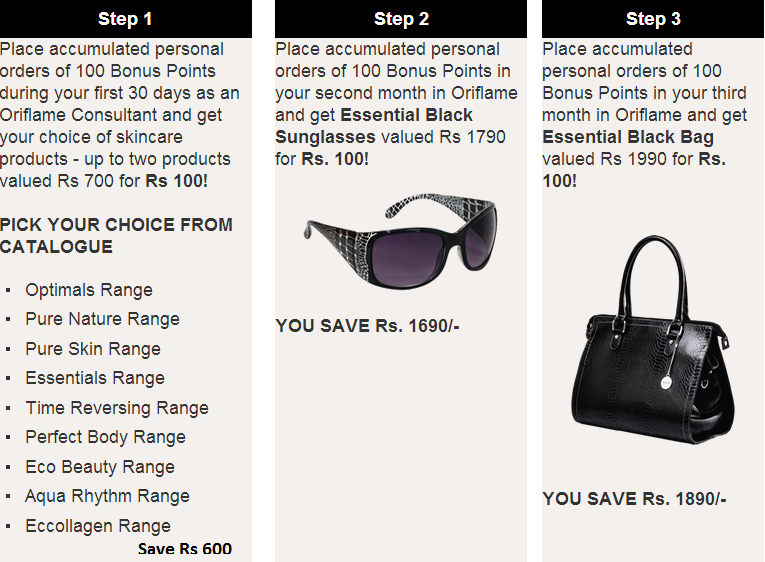 Terms & Condition
1. The qualifiers will get the Welcome program Gift on first order above handling limit (Rs1250) in the month following qualification
2. The Welcome Program benefit codes has to be entered in Welcome program section on website
3. The total value of Welcome Program gifts is Rs 4180 for Rs 300 only (You pay Rs100 for every Welcome Program Step)
Summary of Offer: Essential Black Collection Recruitment Campaign
• Validity: 24th May – 30th June, 2013
• Get to know Oriflame by purchasing a Starter Kit for Rs. 299
• Place your first order of minimum Rs. 1250 and get a rebate of Rs. 200*
• You join Oriflame for Rs. 99/
Benefits of Joining Oriflame with Purvi & Pritesh:
• Best Product Training & Leadership Training
• Online and Offline Support
• Personal Guidance to earn your desired money with Oriflame as soon as possible
• A special step by step training for housewife & working professional separately
About PurviPritesh.com
Purvi & Pritesh a couple is associated with Oriflame since 14 Years now. They are Diamond Director in Oriflame India and among Top 20 leaders of Oriflame, they ranked 17th rank. They offer life altering opportunity to all; whoever wants to earn abundance of money in life to fulfill their dreams with smart work. To Join, Contact PurviPritesh today, or mail purviori@gmail.com